| | |
| --- | --- |
| | The three broad, bare "rakes" of Pen-y-ghent on its western face are its most famous feature and were shaped during a terrific thunderstorm in July 1881. The soil at the surface was washed down to a great depth during the thunderstorm whilst the river Ribble grew from an insignificant trickle to a mass torrent of more than twenty yards wide and twenty foot deep in under an hour. |



geology


Pen-y-ghent, like Ingleborough, is built up mainly of carboniferous limestone and millstone grit, though in differing proportions. The millstone grit cap rests upon the main limestone, followed by the limestones, sandstones and shales of the yoredale beds or series. The great scar limestone follows, resting unconformably above the silurian slates.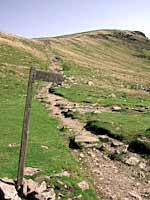 views


Looking north, trains can be seen moving northwards from Horton towards Whernside and Blea Moor. Langstrothdale, Cam Fell, Dodd Fell and Widdale Fell also come into view. Ingleborough, Simon Fell and Moughton Fell lie to the west, whilst Attermire Crags, Ryeloaf, and further on, Pendle Hill are viewed to the south. To the east come Littondale Head, Yockenthwaite Moor and closer still Halton Gill and Litton.