Although Whernside has a less dramatic millstone grit summit than its two siblings, it doesn't stop it being the highest of the three peaks standing at over 2400 ft. It is often termed the 'roof' of yorkshire and its long shallower slopes host a number of tributaries of Little Dale Beck and Winterscales Beck which in turn runs in parallel with West Fell southwards and eventually into the River Doe.






views


Both Pen-y-ghent and Ingleborough can easily be seen to the east and south, whilst towards the north above Dentdale are Baugh Fell and the prominently undulating Howgill Fells further behind.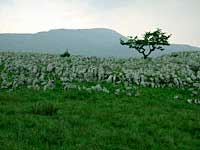 Whernside is the ideal vantage point not only for the other peaks but for the odd locomotive that passes down below. Trains can be seen from nearby Horton-in-Ribblesdale crossing the viaduct at Ribblehead to disappear into Blea Moor.